Project Description
Red Flower is a New York City based skincare brand that sources their ingredients from Finland. It is a natural lifestyle company, known for creating botanical beauty that transforms simple moments into deeply therapeutic experiences through the power of aromatherapy, rich textures and the finest potent, pure certified organic and all-natural ingredients and formulations. Red Flower practices sustainable sourcing direct from farmers and produces in micro-batches at a privately owned facility to ensure freshness and the highest quality.
With exuberant, multi-sensory benefits and a focus on environmental responsibility, each red flower product is designed to reconnect one to nature and to be a source of health, empowered beauty and  connectedness. From the rich heritage of its three global bath-house inspired treatments to the delicate, ephemeral petals on every candle,  red flower is intensely luxurious and generously healing.
Red Flower nature is the ultimate rush of wellness to the face and body with powerfully restorative and concentrated ingredients from Finland, like healing arctic white peat and phyto-powered cloudberries to illuminate and renew.
We had the chance to chat with the founder, Yael about her journey, inspiration and story behind the brand.
Read on…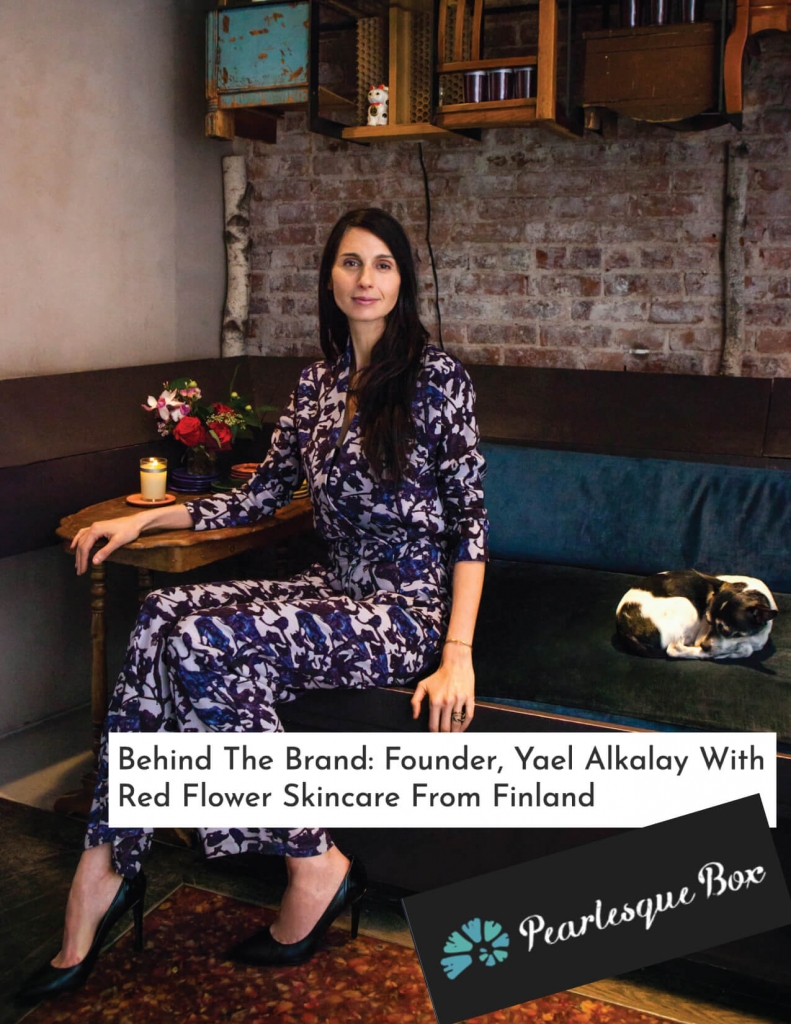 Can you share with us a little about your personal journey in using natural and organic products and how it led to the creation of your business? 
With the launch of Red Flower I wanted to start a revolution in beauty, pioneering an empowering, life-affirming, non-toxic approach. Red Flower is about the way you feel, a call to action to live a fuller, healthier life by reducing stress while boosting energy and vitality.
Red Flower's mission is a worldview that speaks to my heritage – the countless languages, countries and travels that formed my childhood. My delight in my mother's lust for life, my maternal grandfather's connection to the vast Argentine landscape as a young gaucho and my paternal grandfather's practice as the first dermatologist in Bulgaria, my Turkish grandmother's elegance, and my hope to create something that my father could be proud of.
I was deeply influenced by my four years living and working in Japan and visiting over 300 hundred bathhouses and mineral hot springs dotted throughout the countryside. My time living in Japan, my first long soak in a traditional onsen bath house and the vigorous effect that I still feel when I take my daily bath energizes me to the core.
Early on I had a health scare that deeply affected my journey towards beauty wellness. While in my second year at Columbia Business School I suffered a stroke while skiing in the Swiss Alps. It was a total sensory recall – I temporarily lost the use of my right hand and the ability to speak. It was only when a friend came to the hospital and washed my hair with a very minty shampoo that I emerged from the blankness and began to feel and sense potential again. The sensation of touch, paired with the healing power of scent, ignited a spark within and sent me on a mission to deliver beauty in the form of deeply therapeutic experiences through the power of aromatherapy, rich textures, traditional application techniques and the finest organic and all-natural ingredients. The power of touch and aroma on my own healing journey compelled me to launch Red Flower.
How did you choose Finland as a region to source your ingredients? 
The unique location of Finland in the Northern Hemisphere, with its seasonal light cycles, allows for ingredients to grow with an abundance of nutrients not found anywhere else in the world. For example, arctic berries have 40 times the concentration of vitamin E , vitamin C, and antioxidants as they need to protect themselves against the harsh elements of the environment. An essential element in the arctic berries is elegiac acid, one of the few natural ingredients proven to reverse visible signs of aging and repair damaged skin cells.
Another key ingredient category from Finland are arctic white peat phytonutrients. Sustainably sourced white peat, the organic material containing thousands of years of plant decomposition from the last ice age, is rich in nutrients, essential fiber, fatty acids, and minerals that produce warming enzymes on the skin. The intense potency of arctic white peat combats dry, dull skin and improves the moisture balance.
In addition to white peat, Red Flower collects mushrooms which contain powerful beta-glucans, phytochemicals, vitamins, and minerals clinically proven to boost the immune system. The chaga mushroom is medically effective in protecting cellular DNA from damaging free radicals.
Additionally, the lifestyle and principles in Finnish sauna culture lead to lasting health and longevity, qualities that are central to the Nature collection. Principles around stimulating blood flow and boosting the immune system are a path into a more radiant life. We feel that nature stands for something powerful, both as a source for ingredients and also as a way of living a life of enduring connection and lasting beauty.
What is your beauty ritual and why? 
I start every morning with an acupressure massage as part of my skincare routine. I use our Illuminating Rose Collagen Renewal Face Serum from our Nature collection , which contains the oil of 45,000 rose petals in just one ounce. Highly concentrated with cold-pressed berry oils and avocado oil , the unique combination gives you an instantaneous glow through the delivery of vitamins A and C.
There are 11 acupuncture touch points that we recommend doing every day while applying the serum. I apply using these traditional techniques before bed or at my desk during the day and receive deeper, more lasting effects than Botox. We always recommend using your fingers to apply product as each finger has 2,500 nerve endings; there is no tool available today that is more effective.
How would you approach the stigma that Organic and Non-Toxic skincare is not effective? 
Red Flower has been a pioneer in beauty wellness for over 15 years and it is exciting to see how the trend has come alive. Something that we are very proud of at Red Flower is that we have taken beauty and made it not only about what is on the outside, but we focus on beauty from the inside; looking at beauty holistically and valuing the process and ritual.
There is a perception that immediate results are not visible in regards to organic and non-toxic skincare. However, I feel people are becoming more aware that organic and non-toxic skincare is more beneficial with lasting results as it works from the inside out. Synthetic products may have the visible quick effect but the results are not long term. I believe that natural beauty is a part of something bigger than quick fixes – it is a lifestyle.
With the ingredients found in the Red Flower nature collection , the skin experiences a rush of wellness, drawing life and replenishment from nature. Skin is awakened with the bounty of antioxidant-rich berries bursting with omegas 3 and 6, arctic white peat high in fatty acids and phyto-nutrients, and collagen-boosting certified organic mushrooms sourced directly from Finland's phyto-power filled summers of sunlight. The region, in both climate and landscape, is ideal for an array of potent organic ingredients which creates a toxin-free solution to restore skin to optimal health.
Please share with us the main ingredient used in your products and why you have chosen it? 
Arctic berries are powerful ingredients in our Nature line for many reasons. Containing double the amount of vitamin C than oranges, cloudberries help to fortify the skin's barrier, fight oxidative damage and accelerate collagen production to fight premature wrinkles.
In addition to the cloudberry, cranberry oil is considered a super antioxidant due to the unique balance of Omegas 3, 6 and 9 at a potency not found in any other oil. It also deeply moisturizes the skin like few oils can as it boasts two forms of Vitamin E (tocotrienols and tocopherols). Besides providing antioxidant activity and UV protection, tocotrienols also slow the production of melanin – preventing the formation of age spots in the first place.
Another arctic berry brimming with vitamin E, the raspberry , is made up of 83% essential fatty acids which help sustain moisture throughout the day. In addition to preventing any visible UV damage, they also protect the skin against a more inconspicuous danger – daily pollution.
Found in abundance in arctic strawberries , ellagic acid is a potent antioxidant that works to prevent the breakdown of collagen, making it less susceptible to free radical damage and preventing the loss of moisture and elasticity. In addition to its wrinkle-fighting abilities, ellagic acid is also an active skin brightener and aids in protecting the skin from UV damage for healthy and lustrous complexion.
What has been the most challenging part of starting and building your business? 
Red Flower sources ingredients directly from the best purveyors around the world. This allows us to formulate with highly concentrated, potent botanical ingredients and revolutionary, natural preservative systems such as arctic white peat, finnish cold-pressed cloudberry oil and hand harvested salt. We produce and manufacture our products at our Red Flower facility in greater New York for the highest of standards in quality control, environmental impact and micro-batch freshness. Although this has been the most rewarding aspect – it is also the most challenging.
From your brand, what is the single most important product and why? 
I would have to say it's the Red Flower Illuminating Rose Collagen Renewal Face Serum , which is also one of our best-sellers. It brings an illumination and glow to the skin instantaneously and uses powerful ingredients found in nature to restore skin to its radiant self. It's become a transformative part of my daily skincare routine and has been the one product that fully expresses Red Flower's philosophy of beauty wellness.
What is your favorite travel destination and why? 
As a young child, I traveled in Finland and I will never forget arriving in the port of Helsinki to see the sun sparkle on a wooden vending cart with the brightest red mound of glistening strawberries . I knew then that I had arrived at a place where nature is abundant and pure, almost mythical. It was an extraordinary experience and eventually inspired Red Flower's Nature collection of globally inspired therapeutic bathing and facial skin care treatments.
What are your goals (personally and professionally) for 2017?
Red Flower taps directly into the need for instant decompression. We bring healing calm into every beauty experience and 2017 is about giving our customers the tools for lifelong renewed radiance. Red Flower Nature is revolutionary. An ever growing list of customers have told us that the duo of the Lymphatic Phytopower Sea Cleanser and Masque and the Illuminating Rose Collagen Renewal Face Serum has done everything from heal sunburn and reduce rosacea to improve skin tone, plump and illuminate. We know we are onto something extraordinary and our mission is to share it with the world.
For me personally, 2017 is all about renewal. I am committed to practicing the complete #redflowernature collection, including the important aspects of acupressure, for a boost of daily radiance.