Project Description
By Kari Molvar
Once a year, Yael Alkalay of the brand Red Flower heads to the southern coast of Massachusetts to get her hands dirty and dream up new elixirs.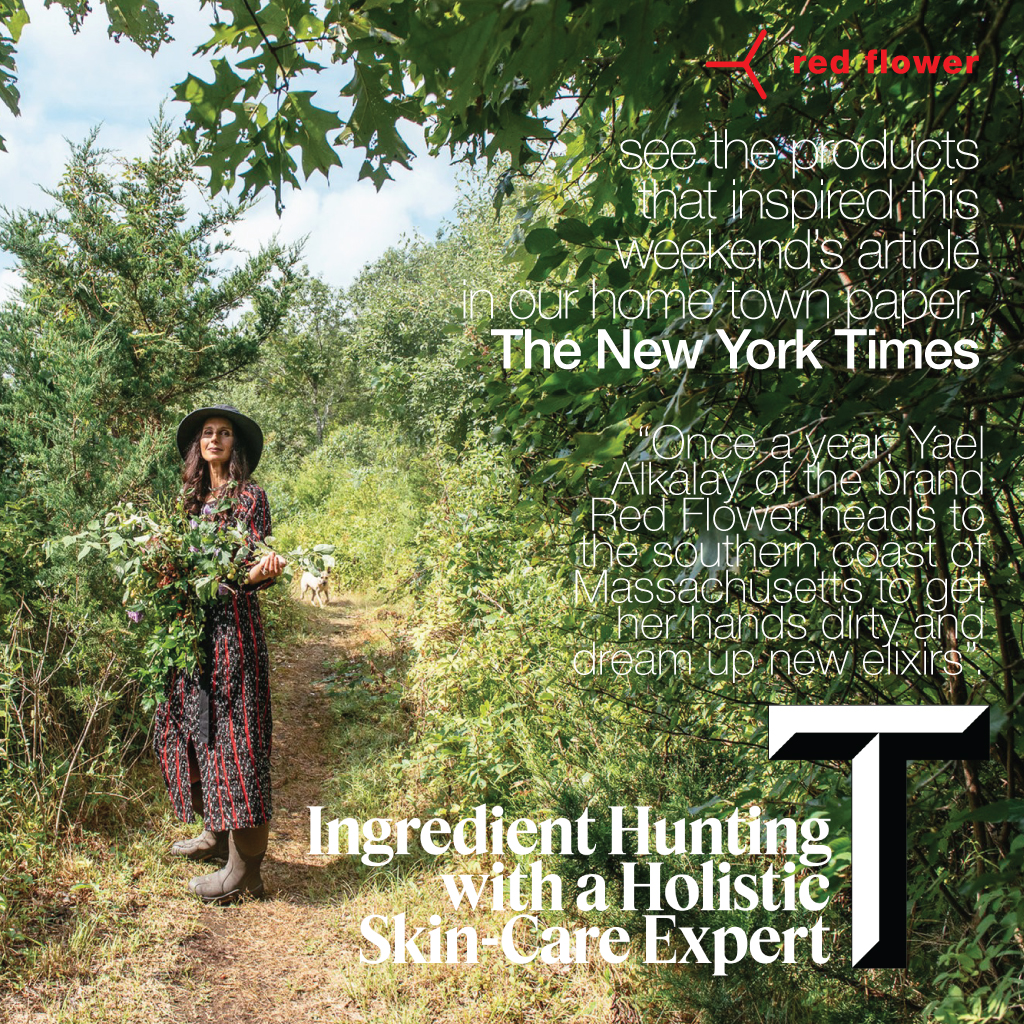 Yael Alkalay is standing in the woods with a pile of plant clippings at her Wellington-shod feet. Her rescue dog, Salty, has broken free of his leash and is eagerly sniffing at the dirt. They're in a wild field near Buzzards Bay on the southern coast of Massachusetts, where Alkalay has decamped for the season from her home base in New York City. Here among the rose hips, raspberries and hibiscus that grow throughout this area of New England, she's spending a late-summer morning researching ingredients for her holistic beauty line, Red Flower.
This stretch of wild, overgrown land is not far from where Alkalay grew up, in New Bedford, a former whaling port with a lingering industrial grittiness and lighthouse-dotted shoreline. Her family moved to the U.S. in 1965 from Israel: Alkalay's Bulgarian-born father was a pulmonary physician while her Argentine mother trained as a pharmacist, and was forever bringing in roots, stems and leaves from the garden to make natural remedies. "I come from a family connected to plants but also the medical field," she says. With her curative botanical brand, which launched in 1999, she sought to combine both of her parents' passions.
The line debuted with therapeutic teas and cotton-wick, petal-topped candles in quietly sophisticated packaging. Next came skin-care products inspired by far-flung locales, like the Ohana gingergrass bamboo scrub, which offers a modern spin on the invigorating pastes used in traditional Japanese bathhouses, and the Arctic berry cloud milk cream. The latter captures the sensation of rain vaporizing on your skin with subtle traces of "moisture and lightness," says Alkalay.
The brand's newest release is the 10,000 Collection, Alkalay's first facial-care range. It debuted last month, after seven years in the making. "I wanted the experience of a traditional facial but amplified through concentrated ingredients," she says. The line includes a brightening rosewater polish, firming cranberry oil eye cream, collagen serum and beetroot lip balm, among other salves. Each formula contains no more than seven botanical ingredients but delivers more than 10,000 nutrients — from antioxidants to fatty acids — sourced from highly potent ingredients, says Alkalay.
To find plants at their peak, Alkalay often forages during spring and summer at Bay End Farm, in the town of Bourne. There, she ducks into the tiny cafe to grab an iced coffee before chatting with Kofi Ingersoll, the third-generation owner of the 35-acre organic farm, which supplies her with beets (known for their skin-revitalizing properties) for the 10,000 Collection, along with cucumbers and lavender used throughout the range. Ingersoll is eager to show Alkalay the cucumber patch, where the gourds have grown well thanks to the generous summer rainfall. Tipping her face up to the sun, Alkalay tastes a deep green cucumber. "It's perfect."
Fresh haul in tow, Alkalay heads to her downtown New Bedford studio, a cooperative work space she keeps for the summer. Tucked in a textile mill, it has soaring 15-foot ceilings and views of the bay from the paint-chipped windows. Here, she sets up her portable steam distiller and manual hand press to experiment with her bounty. "I like to engage with the ingredients to see what possibilities they hold," she says. She'll jot down recipes in a small notebook to be considered for future formulas, while continuing to tinker with other plants — like bay berries, for example ("separating the wax from the berry, I haven't mastered yet," she says).
Spread out on her desk — constructed from a battered wooden hurricane barrier — are the bottles and jars for the 10,000 Collection. The labels appear to be missing, until Alkalay reveals that they are hidden on the bottom of the containers. "The simplicity of the packaging feels like a luxury," she says. Ready to get back to pressing, she grabs a clipping from a raspberry shrub that's curiously smushed. "Oh, I think Salty sat on it!" she says, smiling at the dog who is now stretched out near her feet, fast asleep.